Aggressive Dog Behavior and How to Stop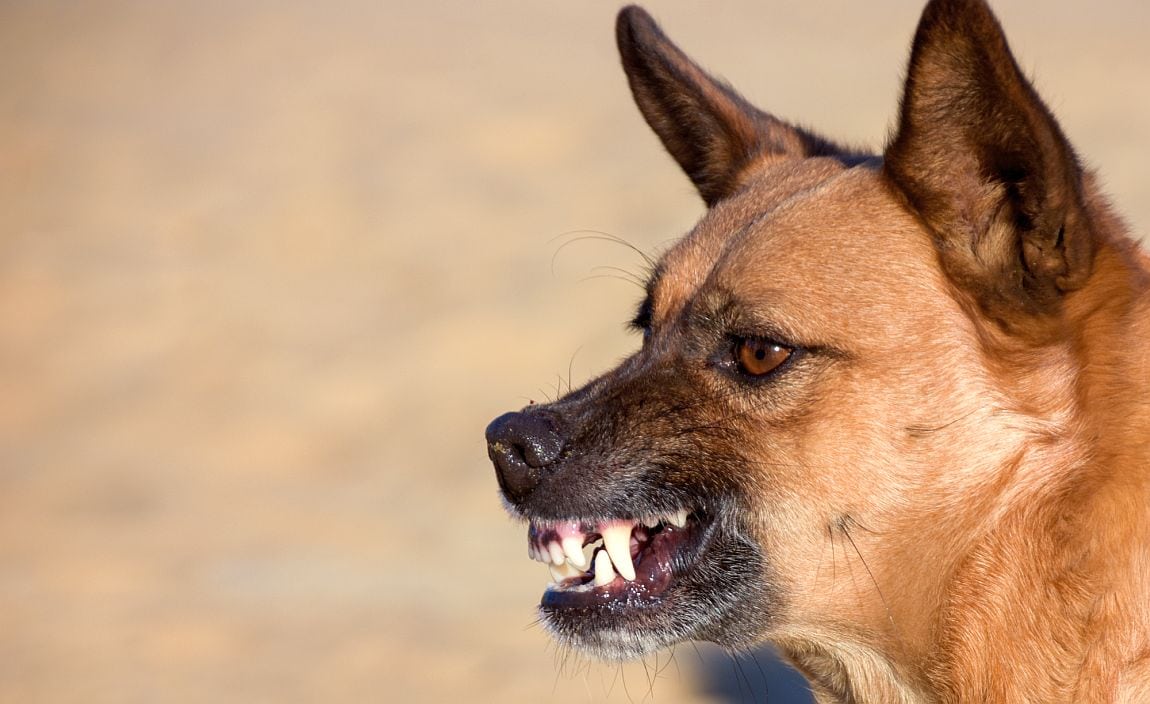 How to stop dog aggressive behavior? Dog aggression is a common behavior issue that can manifest in various ways. It is important to address and manage aggressive behavior in dogs to prevent potential harm to people and other animals.
There are several potential causes of dog aggression, including fear, territorial behavior, and protective instincts. Some dogs may be more prone to aggression due to genetics or early experiences, but all dogs can exhibit aggressive behavior under certain circumstances.
One way to manage how to stop dog aggressive behavior is to provide plenty of socialization and training for your dog. This can help them learn to interact with other dogs and people in a positive way, and can also help to prevent fear-based aggression.
It is also important to recognize the signs of aggressive behavior in your dog and to intervene before the situation escalates. Some common signs of aggression in dogs include growling, snarling, barking, snapping, and biting. If your dog exhibits any of these behaviors, it is important to consult with a veterinarian or professional trainer to develop a plan for managing their aggression.
In some cases, medication may be necessary to help manage aggressive behavior in dogs. Your veterinarian can determine whether medication is appropriate for your dog and can help you choose the right medication to suit their needs.
It is also important to provide your dog with a safe and secure environment to help prevent aggressive behavior. This can include providing them with plenty of exercise and mental stimulation, as well as ensuring that they have a safe and comfortable place to rest.
Overall, managing dog aggression requires a combination of training, socialization, and environmental management. By addressing the underlying causes of aggressive behavior and providing your dog with the right support, you can help prevent aggression and keep your dog happy and healthy.
Aggressive Dog Behavior How to Stop
Dog aggression is a serious behavior problem that can be dangerous for both humans and other dogs. If your dog is showing aggressive behavior, it is important to address the issue as soon as possible. There are several steps you can take to help stop your dog's aggressive behavior:
Consult with a veterinarian or a professional dog trainer to determine the underlying cause of your dog's aggression and how to stop dog aggressive behavior. This will help you develop a treatment plan that addresses the specific cause of your dog's aggression.
Provide your dog with plenty of exercise and mental stimulation. Dogs that are not adequately exercised or stimulated can develop problem behaviors, including aggression.
Train your dog using positive reinforcement techniques. Reward your dog for good behavior and ignore or redirect bad behavior. Avoid using punishment, as this can make aggressive behavior worse.
Use management techniques to prevent your dog from practicing aggressive behavior. For example, if your dog is aggressive toward other dogs, keep your dog on a leash and avoid areas where other dogs are present.
Gradually expose your dog to the situations that trigger their aggressive behavior and teach them to behave appropriately. This is called desensitization and counter-conditioning, and it should be done under the guidance of a professional trainer.
Be patient and consistent with your training efforts. Changing your dog's aggressive behavior will take time and dedication, but with the right approach, you can help your dog become a happy and well-behaved member of the family.
Steps on How to Stop Dog's Aggressive Behavior
According to Wikipedia, aggressive dog is dangerous, and we need couple of steps on how to stop dog aggressive behavior
The first step in stopping a dog's aggressive behavior is to identify the underlying cause of the aggression. This could be fear, anxiety, territoriality, possessiveness, or a medical condition. Consulting with a veterinarian and a professional dog trainer can help to determine the cause and develop a plan to address it.
Providing your dog with adequate socialization and training can help to prevent or reduce aggressive behavior. This means exposing them to a variety of people, places, and situations, and teaching them appropriate behaviors and responses. This can help to prevent them from becoming fearful or anxious in unfamiliar situations, and can help them to learn how to behave appropriately.
Ensuring that your dog gets enough exercise and mental stimulation can also help to prevent or reduce aggressive behavior. Dogs are active animals, and they need plenty of opportunities to run, play, and explore in order to stay healthy and happy. Providing them with toys, puzzles, and other interactive activities can help to keep them mentally engaged and prevent them from becoming bored or restless.
Providing your dog with a safe and secure environment can also help to prevent or reduce aggressive behavior. This means ensuring that they have access to a comfortable and spacious living area, and that they are not left alone for extended periods of time. Providing them with a crate or kennel can also help to give them a sense of security when they need to be left alone.
Avoiding triggers that can cause your dog to become aggressive is also important. This means avoiding exposing them to situations that they find threatening or overwhelming, such as crowds, loud noises, or unfamiliar animals. If your dog tends to become aggressive when they are approached by strangers, it's important to keep them on a leash and under control when they are in public.
Training your dog to respond to commands such as "sit," "stay," and "down" can also be helpful in preventing or reducing aggressive behavior. These commands can be used to help your dog remain calm and controlled in potentially stressful situations, and can help to prevent them from becoming aggressive. Consistency and repetition are key in training, so be sure to practice these commands regularly.
If your dog is aggressive towards other dogs, it's important to manage their interactions carefully. This means keeping them on a leash and under control when they are around other dogs, and avoiding exposing them to dogs that they have a history of aggression towards. If necessary, you can also use a muzzle or other safety measures to prevent them from biting or attacking other dogs.
If your dog is aggressive towards people, it's important to take steps to prevent them from coming into contact with people who they may pose a threat to. This means keeping them under control and on a leash when they are in public, and avoiding exposing them to children or other individuals who they may view as vulnerable. If necessary, you can also use a muzzle or other safety measures to prevent them from biting or attacking people.
If your dog's aggressive behavior is severe or persistent, you may need to seek the guidance of a professional dog trainer or behaviorist. These individuals are trained to work with dogs who have aggressive behavior, and can help to develop a customized training plan to address your dog's specific needs.
In some cases, medication may be necessary to help control your dog's aggressive behavior. This is typically only recommended for dogs with severe or persistent aggression, and should be used under the guidance of a veterinarian. Medication can help to reduce your dog's overall level of anxiety or aggression, making it easier for them to respond to training and behavior modification techniques.
It's important to remember that aggressive behavior in dogs